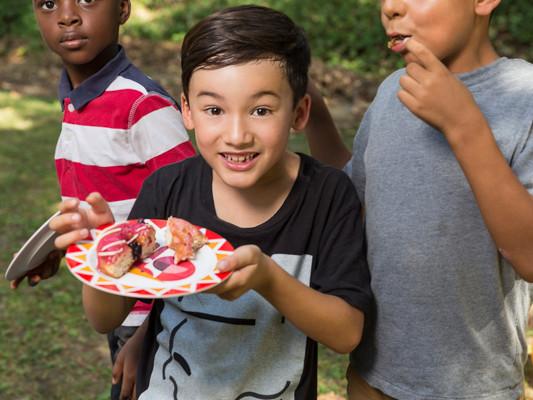 How to Have a Green Birthday Party!
This year I was tasked with organizing Adrian's first birthday party with his new school friends! Was I up for the challenge? I was! I had three goals:
Fun

Vegan

Green (as little waste as possible)
How did I handle each one?
The first goal was easy. FUN! After having attended enough boys' birthday parties, I learned that the quickest path to fun for boys was simply being together. The more friends the better and I took complete advantage of that. Instead of renting a space that would require me to buy their food and products, we took all the kids to the park. Step One! A Park! Thankfully great weather in LA allows park parties easily until the fall.
Goal 2. VEGAN. The only challenge here was figuring out which of the many options I'd want to use to celebrate Adrian's birthday! Vegan baking/sweets is a growing industry (even Ben & Jerry's now has a vegan non-dairy ice cream)  and if you don't live near a vegan bakery and/or you like baking (which I don't) a quick internet search will pull up more than enough recipes to make any 8 year old happy. Meet the Minimalist Baker for example!  I went with Donut Friend here in LA because we could cut them up into smaller pieces for the kids, and parents, to try different flavors.
Goal 3. GREEN. Kid's parties need things but not as much as we think. First, kids don't eat much at parties. They play. Parents talk. So instead of setting up a buffet, I opted to do one salty food and one sweet food. Chips and Fruit. I cut up fruit that would keep – apples (soaked in salt for about 10 minutes to prevent yellowing), pineapple and melon – the night before and bought bags of chips, opening them one at a time to prevent waste (and we still have 3 bags left!). Also I elected to buy water in a container with a spout. This eliminated all the waste in juice boxes (and avoided the extra sugar which they didn't need with donuts on the table!) and also offered us a place to wash hands and dishes. To that extent I used our own Dylan Kendall bamboo plates and bowls,* washing them halfway through the party with a reusable sponge. Was that inconvenient? Sure, for about 5 minutes. Compared to a lifetime of less waste in a landfill and a better planet for our kids? No contest. I make bamboo cups too but we needed the kids to be able to write their names on the cups so they could reuse them – to that extent I used PLA/Corn cups which I bought on Amazon.
The last bit was the party gift bag. Oh, the party gift bag. I never liked the practice of giving kids more stuff they probably don't need. This year I opted instead to send each family home with seed thank you cards giving families a fun activity to try together and maybe adding a bit more color and plant life to the planet!
All in all the day was a huge success and I can proudly say we had very little waste! We recycled two water containers and tossed about 15 cups! Please join our newsletter or stay in touch to find out when the bamboo plates will be available here on our own site or at a store near you!
Photos by Miles Schuster