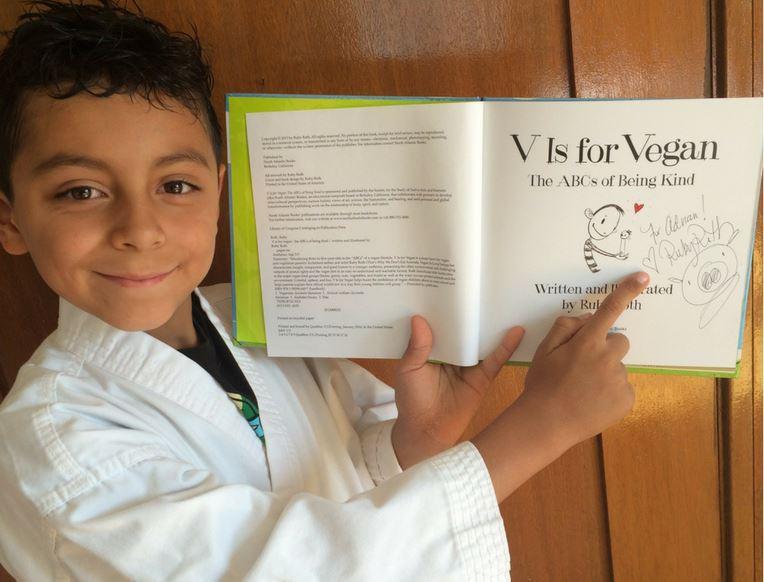 My 5 Favorite Vegan Books for Kids!
To start I want to remind readers that Adrian is not my son, he is my foster son's child or rather my former foster son as Adrian parents are both now in their mid 20s! Adrian is my grandson! Adrian is my nonbiological grandson but the greatest lesson adoption, fostering or even mentoring will ever teach you is that love is not at all tied to biology. 
I mention my relationship to Adrian because he lives with his mom and eats meat. However at my house, Adrian is vegan -- no meat, no cow-milk cheese. When he was little I didn't tell him that the foods he was eating at my house were made from plants, not animals, but now that he's 8 he knows and is quite proud to not eat animals with me.
When Adrian was very young I discovered during our nightly reading sessions that most kids books were not very animal friendly! Often, I had to act quickly to save animals from being killed, thrown against walls, or being eaten by trolls. Now that he's older, I no longer reinvent those part of our favorite stories; instead, we read all books in tact and talk about what other options we could have chosen that were more compassionate.
I was grateful to discover a few really wonderful vegan books with which I have peppered our library and that Adrian loves! Happy to share them here - these have the vegan kids' stamp of approval! 
Five Favorite Vegan Books For Kids! 
1. V is for Vegan, the ABCs of Being Kind by Ruby Roth. Ruby is now a friend and Adrian was very excited to her sign our copy! 
2. Linus the Vegetarian T-Rex by Robert Neubecker. We LOVE this book. Adrian is obsessed with dinosaurs like many kids and loves hearing about Linus' love of lettuce! 
3. Steven the Vegan by Dan Bodenstein. We read Steven the Vegan when Adrian was younger. Because Adrian isn't fully vegan this book was more limited for us but still a lovely story of friendship.
4. The Help Yourself Cookbook by Ruby Roth. I dislike cooking so Adrian isn't exposed to much cooking at my house. However we love this book for the pictures! We read it at night to talk about our favorite foods and food groups! 
5. Herb, the Vegetarian Dragon by Jules Bass. This book wins big in the house because the protagonist is a dragon (way up there in love like Linus). The story line isn't as clean as Linus but Herb provides enough talking points for us to think about kindness. 
And then a throw away, a number 6! because this really is one of our all time favorite books - being a vegan doesn't mean not having a good laugh!
6. The Stinky Cheese Man and Other Fairly Stupid Tales by Jon Scieszka and Lane Smith